Saamu Bai was not always this brave, the situation got her to become so. A Pakistani migrant of the 1971 war, Saamu had experienced poverty and struggle in the Thar to a point where most would give up but she fought her way out. The art of Kashida ran in her family. She was no exception to it ever since her childhood. All she needed was an opportunity to finesse her art. Urmul helped her with this and now its been 21 years of her association with the Income Generation Programme at the organisation.
Saamu Bai is from village 2AD in Bikaner district and is presently working with 40 women in her village training them on the intricacies of the art. She trains them in Kashida and helps them earn a living, Her eagerness to learn has her step out of the house and travel across places like Goa, Hyderabad, Delhi and Varanasi for up-scaling her art. She also had her first flight experience in the process. Saamu Bai never went to school but today she maintains a register of all the women working with her in the village. She not only writes their details but also manages their account. She is an inspiration to the women in her village as she has shown them that hardwork and commitment will get them the respect they deserve. It would be a great means to add to the family income.
With her vast experience Saamu Bai not only does Kashida but also helps in the designing process today. Her journey began with Urmul's training and today she gives the organisation all the credit for the tremendous support they extended over all the years.
Once valued at Rs. 1 lac per camel, the camels of western Rajasthan have low use value and currently priced at a meager value of Rs. 2500-5000 per camel. Bhanwarlal Raika, a camel herder from Nokh, Bikaner, used to own 60 camels. Despite owning a large herd, his attention gradually shifted from camel herding to other activities over the decades due to declining income opportunities. A story of hope brought home by his brother Sriram Raika, encouraged Bhanwarlal to change his course of action.
Sriram Raika, Secretary of one of the Camel Herders' Federation formed under The Camel Partnership, driven by Urmul and partner organisations, had the opportunity to go on an exposure visit to Sarhad Dairy at Bhuj and see for himself the change that was brought about by camel milk alone. He saw how the camel herding communities at Bhuj were able to successfully integrate camels into the modern economy. Thoroughly impressed by the possibility of doing the same within his community, Sriram Raika returned home to Nokh and shared his insightful experiences with brother Bhanwarlal and the other camel herders.
Sensing the lucrative opportunity of starting his own camel milk business, Bhanwarlal has now purchased 40 new camels – an extremely rare case in a region where camel herders were earlier selling off their camels or leaving them astray due to high costs of rearing and lack of hope. This brings a silver lining to a dark cloud that has been long hovering over the camel herding communities of the Thar.
Urmul Seemant Samiti, Bajju has been working with adolescent girls on menstrual hygiene management and sanitary napkin preparation, usage and disposal. With support from Plan International, the team has conducted several training and awareness programs for leaders of adolescent girl groups from different villages of the project area. Through these training and awareness programs, the girls were constantly oriented on menstrual hygiene management and developed their understanding on menstrual cycle and how they can make sanitary napkins at home with localized material.
They in turn shared the awareness to their peers and group members and on how to avail benefit of free distribution of napkins through government. Previously adult female members of their family were using cloths or sand filled Terry Cotton cloths during menstrual period but after orientation by group members, they started using sanitary napkins. But due to poverty and the high cost of sanitary napkins all adult females were not getting sanitary napkins easily. As a step forward, for behavioral change of adult female members of their families and easy availability of sanitary napkin, Saraswati Vandna Kishori Prerna Manch (An Adolescent Girl Group) of Shambhu Ka Burj village demanded for setting up a sanitary napkin making unit at village. This unit was set up under the programme in 2019 where today girls are making sanitary napkins for personal usage as well as for sale. The girls were honored and encouraged for their efforts by the Zila Parishad on Republic day.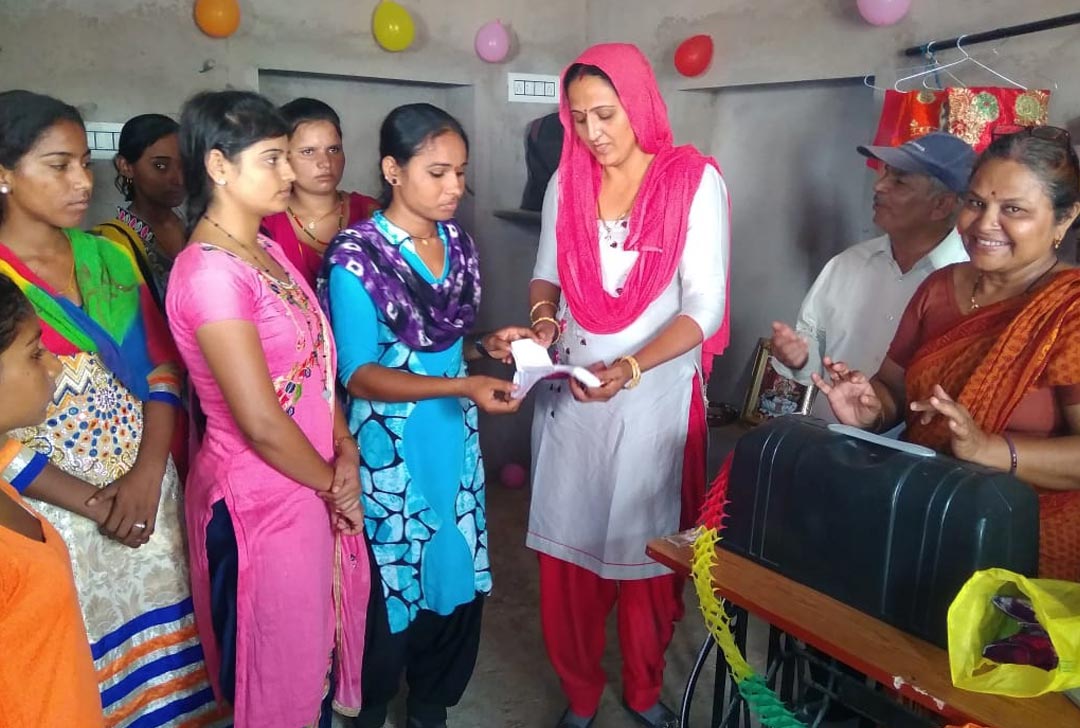 Madan Singh reflected strength ever since the day we met him at his small house in his fields in village Modayat. Limping around on one leg, he fell prey to polio in his early years but never let that hinder his path to become a successful farmer who tries his best to do justice to his land. When our team at Urmul Model Farm approached him to attend a training on organic and sustainable farming, he showed a great deal of interest and was amongst the first few to reach the campus at Bajju on the day of the training.
His inclination towards learning reflected from his active involvement in the sessions and his responsiveness to the trainer's questions. Nothing could stop him, not even him being affected with polio in one foot from working hard and providing for his family. Father to a daughter and a son Madan Singh lives in a joint family. He has toiled hard through the years and his disability has never been a hindrance to him. His family says that he is the hardest working person in the house and has always been someone they look up to.
After attending the training, he went back to his village and promptly swung into action. When URMUL followed up with him sometime after the training, he was the first farmer who beamed and showed us a Azolla pit at his farm he had constructed based on the learning. He said that "The training helped me understand and see the benefits of organic farming. I always wanted to learn new farming techniques but never had any opportunity to. Now that I have got it I would not likely miss it." Madan Singh has been an inspiration for other farmers in the area who are a part of our network of over 3000 farmers, learning advanced and sustainable farming techniques with their undying spirits and incessant efforts to grow and anchor change amongst the fellow farmers in their villages.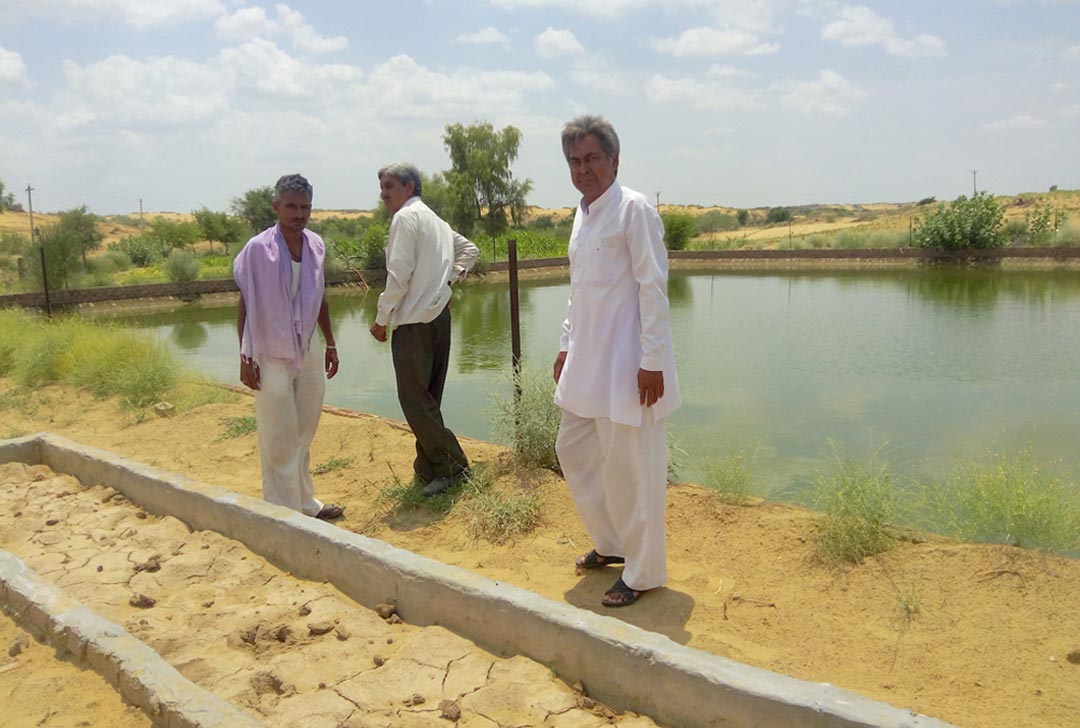 Manju is the fifth child in a family of six children. Her father was forced to work endlessly to make ends meet for the family. Under societal pressure and barely any resources, her father married off her elder sisters even when they had not attained the legal minimum age. However, Manju was determined to spend her time at school wisely and make the most of it. She was studying in Kasturba Gandhi Balika Vidyalaya where our Prajwala Programme team was implementing a comprehensive WASH intervention to develop an understanding of hygiene and sanitation practices amongst adolescent girls.
Manju actively started taking part in the activities organised by Urmul. She is an active member of the Child Cabinet and Kishori Balika Samooh. Upon learning the importance of hygiene and sanitation she enthusiastically took part in spreading awareness on the importance and necessity of WASH for the health and well being of girls, their families and community at large. She painstakingly with the aid of her family prepared posters and models to make the sessions more interactive. Fellow students took inspiration from her zest which further motivated her to continue voicing issues about recommended hygiene practices. She shared, "As a woman, I believe I have to ensure that all the girls live in the most hygienic conditions possible." Today, she is excitedly associated with the programme team and wishes to become an advocate for better WASH infrastructure in schools.
A WASH Activist in the Making