Effective communication is important for any organisation, essential for its smooth functioning. In today's era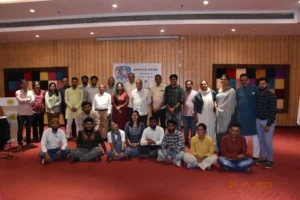 of information overload, relying on communication becomes increasingly challenging and erodes trust in the veracity of the information we receive.
The stakes of credibility are particularly high for civil society organisations, which once relied solely on the power of word-of-mouth. While this approach was potent within a limited circle, it couldn't fully capture the depth of their endeavours. These organisations are more than accomplishments shared one day; they embody tales of struggle and the human experience, intricately woven into the fabric of society.Their stories transcend tangible outcomes. They delve into the profound journey of building friendships, fostering trust, and forging partnerships. These narratives encompass the initial conversations that birthed trust, the apprehension of the unknown, and the meticulous documentation of their processes, tireless work, and the hidden wellspring of mutual motivation.
Embracing this spirit of growth and enlightenment, we have embarked on a transformative path.
Effective Communication and Storytelling Workshop
Two members took part in a workshop organised by Vikas Samvad in Bhopal, held from May 23rd to May 27th. This gathering emphasised the paramount significance of storytelling and effective communication. Journalists and civil society organisations hailing from Chhattisgarh, Madhya Pradesh, and Rajasthan Participated, practising and learning effective communication with exchange of personal experiences amongst the twenty participants.
Writeshop- embracing a change
Urmul Seemant Samiti, in collaboration with the Rajasthan Natural Farming Coalition, hosted a two-day writeshop on June 14th and 15th. The primary objective was to impart invaluable skills for capturing and documenting the inspiring ground-level stories of farmers transitioning towards or embracing natural farming practices. The event brought together nine remarkable organisations, including Disha-RDCSS, Desert Resource Centre, FES, GRAVIS, JKBT, Seva Mandir, and Unnati, creating an atmosphere brimming with innovation and collective wisdom.
Bahula Hatai- Interactive youtube programme for farmers
Embed Video Link : बहुला हथाई डॉ राजेश कुमार सावल रे साथै
A program dedicated to supporting farmers in western Rajasthan. It provides valuable assistance and knowledge sharing opportunities to address the specific needs and challenges faced by farmers.
To ensure accessibility, Bahula Hathai content will be available on YouTube. Farmers can access a wide range of informative videos.These videos can be watched at any time, allowing farmers to learn at their own pace and fit the program into their schedules.
Bahula Hathai will bring together a diverse range of experts, including agricultural scientists, agronomists and experienced farmers.