An innovative collaboration has been forged with visionary entrepreneur Mr. Sonu Kothari, founder of Farm India Foundation, along with Urmul Seemant Samiti and dedicated community members which operates on a unique principle of empowerment and ownership.
Sonu Kothari (HNI Businessman and founder of Farm India Foundation ) offers interest-free loans, with a generous
50% subsidy, to support the installation of biogas plants for the beneficiaries. In turn, the beneficiaries contribute the remaining amount while Urmul Seemant Samiti plays a vital role in providing human resources, identifying beneficiaries, and executing strategies on the ground.
With the promising outcomes of an initial pilot project featuring five bio gas plants, the initiative is now being scaled up to benefit 50 additional beneficiaries. This expansion signifies a powerful step towards sustainability and ensures a lasting impact on the communities involved.
Innovation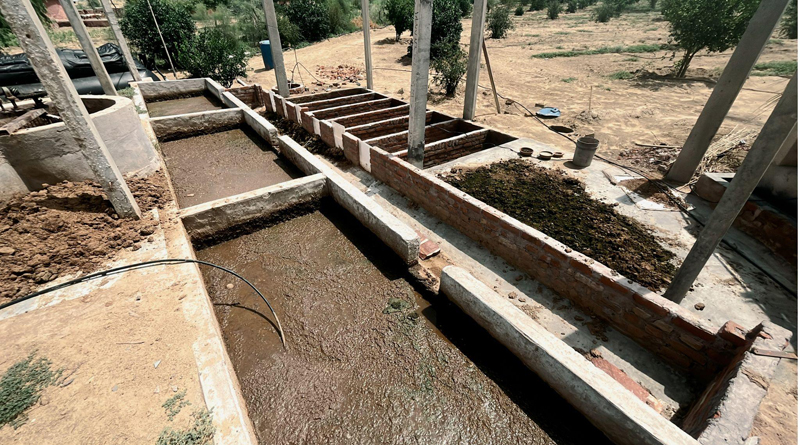 Currently, another pilot project is underway in collaboration with Sonu Kothari (HNI Businessman and founder of Farm India Foundation ) with Urmul Seemant Samiti.
This project aims to assess the performance of a different biogas model called "Home Bio."
Additionally, to separate liquid and solid particles from biogas slurry and add value to these components for agricultural purposes and taking the separated liquid and blending it with jivaamrit, undergoing aerobic digestion to enhance its value. Simultaneously, the separated solid is utilised to produce vermicompost.
To further augment the properties of vermicompost, we are incorporating hydrogel into the mix. Hydrogel is a biodegradable polymer known for its remarkable ability to retain moisture. It is derived from orange peel and serves as an effective solution to overcome water stress in agricultural fields.
By blending hydrogel with vermicompost, we aim to enhance its water holding capacity and moisture retention capabilities. This combination ensures that the water is released to plants when needed, supporting their growth and resilience even in challenging conditions.
Spearheading this experiment is Tony, our dedicated desert fellow, who is diligently developing this innovative model.
This ongoing pilot project signifies commitment for continuous improvement and exploration of more sustainable biogas solutions. By harnessing the potential of Home Bio and incorporating advanced techniques like slurry separation and hydrogel addition, we strive to optimise the efficiency and environmental impact of our bio gas initiatives.