In 1995, Mahaveer ji joined Urmul Seemant, hailing from humble beginnings in Arjunsar. In his early years, he worked on levelling land for a women's agricultural group near Kolayat. Slowly, he expanded his role, approaching tasks of all sizes with equal determination, regardless of complexity.
He stresses the simple truth that hard work naturally leads to more responsibilities. When one has the ability, shying away from these responsibilities shouldn't be a choice. This perspective consistently kindles inspiration in all who converse with him.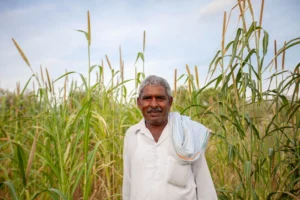 Mahaveer ji remains an ever-present source of assistance, ready to lend a hand. Every morning, he's in his farm before anyone starts their day. The campus now boasts three flourishing small farms and numerous trees, an unusual sight in the desert environment, and he knows them all intimately.
Waking up before dawn at 4 AM and consistently being out in the fields as the sun rises and illuminates the campus with the sandy glow, Mahaveer ji's dedication is unwavering. His tractor occasionally echoes with the wind, in late-night a reminder of his ongoing efforts. He recalls the scepticism he faced when he first embraced agriculture, with many doubting the worth of his water and fuel usage. But today, he proudly points to his fruit garden and thriving farms as proof that his hard work has paid off.
His steadfast commitment sets the rhythm that we all feel.